彼 の 地 の 匂 い
[ The Flavor Of "Kano-chi" (That place) ]
地面に置いた足の上下30センチ。
そこに息づくものたちの視点、土の温度、それに寄り添う生活とは。
このソロ作品は、日本の東北地方とインドネシアの郷土芸能をリサーチしている過程で制作したものです。岩手県の"鹿踊り"や"剣舞"、インドネシアの"ワヤン・オラン"や、他地域の郷土芸能には、類似したダンスムーブメントや文化がいくつもあります。それは、郷土芸能・伝統芸能が人々の生活文化の中で育まれてきた芸能である事、日本とインドネシアが同じ島国であるという事に起因しているかもしれません。

今、東京という都会で生活する私から見て、それらの地域・国の人々は「彼の地」にて、土に寄り添い踊り生活する、大地の「匂い」を纏った人々なのです。
30 cm (12 inch) upper/lower area from the point I stepped on.
Perspective of the species there, the temperature of soil, and the lifestyle of people close to them.
This solo work was created in the process of researching local performing arts in the Tohoku region of Japan and Indonesia. There are many similar dance movements and cultures in the performing arts, such as "Shishi-odori(Deer Dance)" and "Kembai(Sword Dance)" in Iwate Prefecture in Japan, and "Wayang Orang" and other local dances in Indonesia. This may be due to the fact that local and traditional performing arts have been nurtured in people's daily life and culture, and that Japan and Indonesia are both island countries.
"Kanochi" is a Japanese word meaning "that (distant) place. From my point of view living in the city of Tokyo, the people of those regions and countries are the people who dance and live close to the earth in "that place", and are clothed in the "smell" of the earth.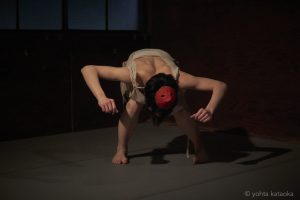 ---
2020.12.11 カフェムリウイ(東京)にて
振付・出演 … 小山柚香
声 … 田上碧

11th , 2020 Premier in Muriwui (Tokyo/Japan)
Performance & Choreography … Yuuka Koyama
Voice … Aoi Tagami